Available Fosters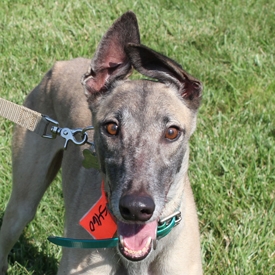 Arriving 8/5/2017

8/20/2017 "Dory" is a very sweet and affectionate dog. She likes to be petted and cuddled. She has a beautiful gray/tan colored coat with a darker face.

She can now easily go up and down carpeted stairs. She can't yet get in and out of vehicles on her own. She originally weighed in at 52 pounds when we got her but she has put on some needed weight. She loves toys. We socialized her with other dogs and she gets along well with them, including our other greyhound. She doesn't seem to have any separation anxiety. We are not sure how well she would interact with smaller dogs. The extent of her prey instinct is still unknown. She is very good with kids.

She likes to eat and is not picky. She is good at sharing. She shared a bowl of food and water with our other dog without any issues. We di ...
Read More...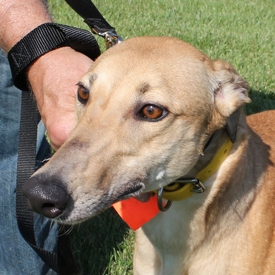 Arriving 8/5/2017

8/22/2017: Cascade is a beautiful, sweet 3 year old fawn female. Her coat is soft as silk and has a very colorful, fluffy tail with a curl on the end. She responds to her name, from day one has crated well, has not had one accident in the house and she gets along with our other 3 greys. The cats are coming downstairs now. She will follow them with curiosity, but otherwise ignores them. She has not mastered the stairs. She will not go up without assistance, coming down is okay. We would recommend that Cascade go to a ranch house or one with few steps. Cascade has no favorite toy, she plays with them all. She loves to lay in the yard and roll over and roach in the grass. She also has a great smile!

9/25/2017: We thought Cascade was having trouble with the stairs, we have stairs with bare wood and a ...
Read More...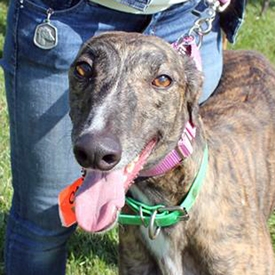 Arriving 8/5/2017

8/28/2017: Chloe has a sweet submissive personality. She lacks confidence and is always looking to her foster parents for approval. She is super sensitive and responds best to a softer tone of discipline. She hasn't had any accidents since they did another round of worming. She is pretty easy to crate and even puts herself in it at times. Chloe can be very loud and vocal when her foster parents arrive home showing her excitement! She has had a couple of instances of counter surfing and raiding the trash so she will need to be watched closely. She is good with our other greyhounds but she seems like she'd be ok alone. She shows interest in smaller animals but we have yet to see a kitty or a small dog. She learned how to do stairs in one day and seems comfortable on them. She absolutely loves toys and I'll usua ...
Read More...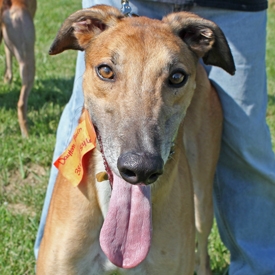 Arriving 8/5/2017

8/25/2017: Cyclone is settling in well to family life. He is learning the word "no" very well, and is just beginning to learn his name and respond to it. Cyclone does very well with small dogs (and all dogs), and in fact, would do best if there is another Greyhound or another big dog in the family. He is a cat chaser, and we are working on "no kitty" to train him to stop chasing cats.

Cyclone is a fantastic dog and will adjust well, however he does have some anxiety, especially separation anxiety. He is very calm when with "his people", but does NOT enjoy being isolated or separated for any length of time. He crates well, but whines a lot and is very verbal the entire time in his crate unless he can see another person.

Cyclone is high energy (he is young, at 3 years old), walks very we ...
Read More...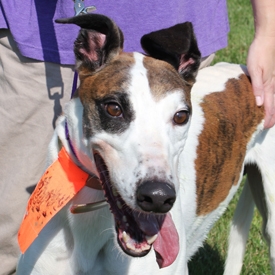 Arriving 8/5/2017

8/14/2017: Hold On is such a sweet and gentle larger boy. He follows his foster mom and just wants to be where I am. He is gentle and loves kids. Many boys his size might knock kids down, but he doesn't jump and isn't pushy at all. He just wants to be loved and bury his head in his foster mom's lap.

He does not like slippery floors and slippery stairs. He may be OK with carpeted stairs, but right now his foster mom cannot get him to go down her basement steps since the landing is slippery and the basement is slippery. With his size, if he doesn't want to do something, it is hard to make him do it. He crates very well and loves to play and run. And he loves to sleep. He doesn't get up early in the morning and has settled into a routine.

He hasn't tried to get on furniture, but may be in ...
Read More...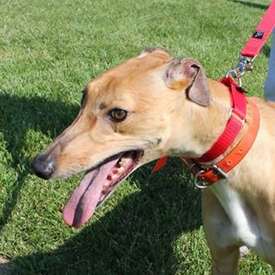 Arriving 8/5/2017

Jackie is a sweet, happy girl. She is "Queen of the Roachers". Stairs, tile floors and wood floors are no problem. She enjoys going for walks and does fairly well when wearing a harness. Jackie gets along well with her two foster greyhound brothers and sleeps through the night on a dog bed in our bedroom. Her appetite is good and she enjoys all treats, especially peanut butter. Jackie could be a wonderful addition to your home.

9/22/2017: Jackie is a happy girl who enjoyed her visit to the GPA picnic including meeting people and hounds, getting a pedicure and bringing home many treats to enjoy during the upcoming days and share with her two foster brothers. Walks continue to be a favorite activity and her behavior on lead is steadily improving. When it comes time to relax she continues to be a star ...
Read More...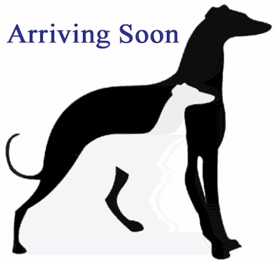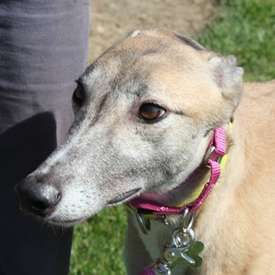 Arriving 8/5/2017

8/15/2017: Kracker is a friendly girl who has started out on the shier side but is becoming more calm and confident every day. She enjoys walks, car rides and lots of affection! She doesn't prefer crating and shows signs that she would someday probably be okay without one, but complies kindly for now.

8/24/2017: Kracker is continuing to become more comfortable and is really enjoying playing with toys and socializing on walks. She met a pug and they got along great, so she appears to be small dog friendly.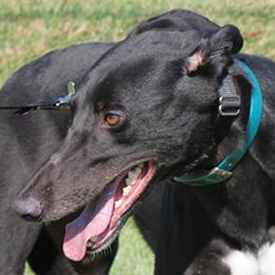 Arriving 8/5/2017

8/29/2017: Nick is a little shy when you first meet him, but warms up after he learns to trust you. He's afraid of any new situations, but with reassurance, can get through it. Once he feels comfortable, he's such a "puppy" and full of energy. He will run around the house playing with toys and loves to run in the yard, and if you're lucky you might get a kiss. He rides well in the car, crates with no problems, walks well with another grey to guide him, and gets along with my two greys and kitties.

If you have a lot of patience to earn his trust, he will make an excellent companion.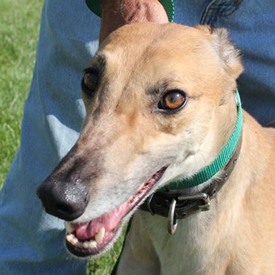 Arriving 8/5/2017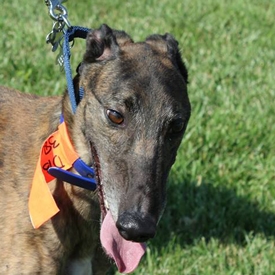 Arriving 8/5/2017

8/18/2017: RR is doing fantastic in his foster home. He is 100% house trained with no accidents the house or in his crate. He also has earned a large fluffy dog be in his crate as he doesn't try to tear up his bedding. RR is learning his name, however he has not quite caught on yet. He is now comfortable with eating kibble meals twice a day, and can comfortably eat around other greyhounds at raised feeding stations.

RR is comfortable with hardwood floors but is still learning about glass doors. He has bonked his head a few times thinking they were open. RR gets along with all large dogs but we are not 100% sure of his small dog safety. He has shown a lot of "interest" with small dogs that are moving or excited, but has left the resident Italian greyhound alone through a gated doorway. He is work ...
Read More...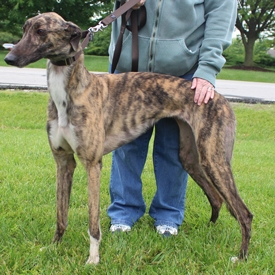 Arriving 5/20/2017